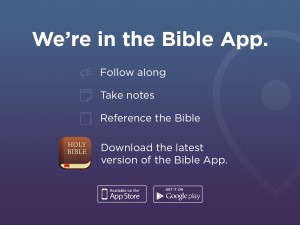 Heartland Bible Church utilizes the YouVersion Bible App to integrate technology into our study of God's Word. YouVersion is a Bible application for your iPhone, Android Phone, iPad, or tablet.
Each week, we upload our announcements, our discussion questions, and the Scripture verses referenced during church to YouVersion for public access 24 hours prior to our church service. YouVersion offers the option to take notes and even submit a prayer request.
YouVersion Live Events gives you a way to interact with Heartland's church service using your mobile device through their "Event" option.
---
If you have a smart device, you can download the YouVersion Bible app to access Heartland's Live Events. Here are instruction to get started…
Instructions for using the Live Event feature on your YouVersion Bible app:
1. Download the YouVersion Bible app on your smart device. (Enter "bible app by Life.Church" in the search bar)
2. Tap on "MENU" and select "MORE" in lower right corner. Select "EVENTS"
3. Select "SEARCH FOR LIVE EVENTS"
4. If Heartland Bible Church events do not come up automatically, please type in "60157"or "Medinah" in the search bar and you should gain access to all Live Events near Medinah.
5. Select "Heartland Bible Church"
6. You're finished! Please don't hesitate to let us know if you have any technological difficulties 🙂